Sanremo, 21 September 2002

Suzuki Team Germany's Niki Schelle is closing in on a points-scoring position after day two of the Sanremo Rallye.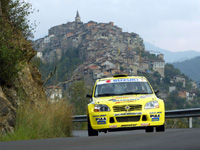 SCHELLE / GEILHAUSEN
Schelle has finished the day seventh in the Junior World Championship standings after an excellent run. He said: "I've been driving close to the limit all day "and occasionally very slightly over it! The performance of the car has been superlative: it has been one of the most enjoyable days of driving that I have ever had." The cars only completed one stage before first service today, as the leg's second stage was cancelled after an accident blocked the road. "I was keeping an eye on Martin Rowe in the Ford Puma, who is just behind me in eighth,"explained Schelle. The two drivers enjoyed a fantastic battle all day, swapping seconds with each other. But it was Schelle who emerged on top after Rowe went off the road.. "I've had to drive at 100%,"said Schelle. "On stage 12 we brushed the wall slightly, but no real damage was done. It has been great!"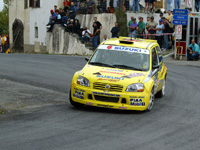 KANGAS / LAAKSONEN
Suzuki Team Finland driver Juha Kangas finished today 15th , after solving the brake problems that had blocked his progress yesterday. "The brakes have been fine and that has allowed me to attack more,"said the young Finn. "I've still got a lot to learn, so I take my hat off to Niki "he has been in a class of his own." Kangas was pleased with the performance of his Ignis, which was totally reliable all day. The biggest difficulty, as always in Sanremo, was the unpredictable weather. Today saw sun, rain and fog "but conditions worsened in the afternoon. "It was quite tricky to choose the right tyres," explained Kangas. "We had a very long stage in the afternoon of 42 kilometres and we have to commit to a tyre choice that would also be suitable for the shorter stage before. So every choice is a compromise, and that's not easy."

Today's roads were typical of the event as a whole: twisty, demanding, and mountainous. Thousands of fans turned up to see their heroes in action, and every crew was tested to the limit.
"I think today's stages were even more difficult than yesterday's. "said Kangas. "But we are learning more about the car on asphalt all the time and I am looking forward to tomorrow."


KANGAS / LAAKSONEN
Suzuki Team Japan's Kazuhiko Niwa was forced to retire after an accident on the final stage, which also claimed a couple of the works World Rally Cars. The young Japanese driver was caught out by the tricky conditions, and while he was disappointed at having to retire, he left the rally with a lot more experience. "I feel quite depressed about the accident" he said. "It was a stupid thing, and everything was going so well up until then. The car had been perfectly reliable, and my driving had been improving all the time. But I suppose anything can happen in rallying. Looking on the positive side, I have now accumulated some more asphalt experience, and I've also got used to hearing pace notes in English."

The only small mechanical glitch Niwa suffered from before the accident was a faulty gearchange indicator on the opening stage, meaning that he could not tell which gear he was in. This problem was fixed at service, and Niwa continued to build on his progress. He suffered a front left puncture two kilometres from the finish of stage 12, but chose to continue and did not lose a lot of time.

Just four more stages complete the Sanremo Rallye tomorrow, totalling 88 competitive kilometres. The crews will start at 0600 (CET) and the winner is expected on the finish ramp in Sanremo at 1500 (CET).

Today in the JWRC:

The battle for the lead has been another tremendous scrap between local Italian asphalt experts Giandomenico Basso, Andrea Dallavilla, and Nicola Caldani. The group swapped seconds but it was Dallavilla's Citroen Saxo that claimed the overnight lead. Basso's Fiat is less than 10 seconds behind in second, while Caldani's similar Punto is just two seconds off asso, in third! There is everything to play for tomorrow, and Citroen driver Daniel Sola is also keen to get stuck into the battle. Niki Schelle is keen to score more points for Suzuki as well, after his success in Germany.

Suzuki versus rivals:

SS9 San Romolo 1 (10.69km)
Fastest JWRC: Giandomenico Basso (Fiat Punto) 7m18.5s
Schelle (8th fastest): 7m31.5s
Kangas (17th fastest): 7m55.3s
Niwa (19th fastest): 8m01.7s

SS10 Colle Langan 1 (42.31km)
Stage stopped after accident to Philippe Bugalski. All JWRC drivers given time of 30m39.5s

SS11 Cosio 2 (19.19km)
Fastest JWRC: Andrea Dallavilla (Citroen Saxo) 13m12.6s
Schelle (9th fastest): 13m26.4s
Kangas (15th fastest): 13m58.8s
Niwa (18th fastest): 14m22.3s

SS12 San Bartolomeo 2 (25.38km)
Fastest JWRC: Giandomenico Basso (Fiat Punto) 16m16.9s
Schelle (7th fastest): 16m32.4s
Kangas (15th fastest): 17m25.8s
Niwa (19th fastest): 18m24.1s

SS13 San Romolo 2 (10.69km)
Fastest JWRC: Giandomenico Basso (Fiat Punto) 7m33.3s
Schelle (6th fastest): 7m41.6s
Kangas (16th fastest): 8m04.2s
Niwa (18th fastest): 8m14.0s

SS14 Colle Langan 2 (42.31km)
Fastest JWRC: Daniel Sola (Citroen Saxo) 31m09.9s
Schelle (8th fastest): 31m59.3s
Kangas (14th fastest) 33m53.7s
Niwa: retired

Junior World Championship results at end of leg two:

1 Andrea Dallavilla (Fiat) 3h31m38.4s
2 Giandomenico Basso (Fiat) 3h31m47.9s
3 Nicola Caldani (Fiat) 3h31m49.9s
4 Daniel Sola (Citroen) 3h32m05.6s
5 Gianni Galli (Fiat) 3h32m31.6s
6 Francois Duval (Ford) 3h33m28.4s
7 Niki Schelle (Suzuki) 3h34m29.0s
15 Juha Kangas (Suzuki) 3h43m51.1s