Sanremo, 20 September 2002


The three privateer Suzuki Ignis teams have successfully completed the opening day of the Sanremo Rallye, the penultimate round of the Junior World Championship.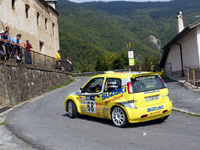 SCHELLE / GEILHAUSEN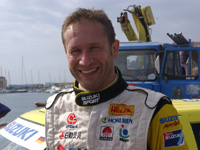 NIKI SCHELLE/
Suzuki Team Germany's Niki Schelle was the highest placed Ignis driver, seventh overnight. The German, who brought Suzuki their best-ever result with third on the Rallye Deutschland, demonstrated his swift pace once more in Italy.
"I'm very happy," said Schelle. "The car has been performing quickly and reliably all day. Although I've never done this rally before, we were able to set some fast times. The roads are very demanding, but they are great fun to drive. The test we did before this rally was invaluable, as it allowed us to find the right settings straight away. Today, I couldn't have asked for more."
The only scare that Schelle had was an engine warning light that came on during the first stage. However, this was traced to a faulty connection at service. He also had a puncture right at the end of stage seven, which luckily did not cost any time.
Schelle was particularly delighted by stage five, which he called: "one of the best stages I've ever driven.
"Everything just came together," he explained afterwards. "We're really starting to show the potential of the Ignis on asphalt."
Schelle was once more co-driven by Tanja Geilhausen, who accompanied him to success on the Rallye Deutschland. She found the twists and turns of Italy a very different experience to rallies in her native Germany.
"With all the corners, I've got a lot of very hard work here!" she said. "I'm also not so familiar with the territory, so I have to concentrate even harder. But I'm relieved to get to the end of today and I'm sure we'll be able to continue to do a good job tomorrow."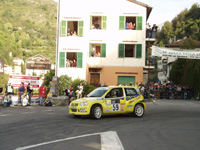 KANGAS / LAAKSONEN
Suzuki Team Finland's Juha Kangas was 16th overnight, but experienced problems with overheating brake fluid. His attacking style meant that the brakes took a lot of punishment throughout the rally, and he often struggled to stop his Ignis.
"It was frustrating as I know that without the problem we could have been a lot faster," he said. "The car was snaking from right to left under heavy braking, which meant that we often clouted the barrier."
Suzuki Team Finland manager Risto Laine explained the problem: "It was quite hot outside, and coupled with the heavy braking demands of this rally for everyone, the brake fluid on Juha's car was frequently boiling. To solve it, we tried a new specification of fluid and brake pad, so we hope it should be OK for tomorrow."
Nonetheless, Kangas enjoyed his first taste of Italian asphalt, as is looking forward to a trouble-free run tomorrow.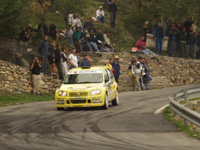 NIWA / WEISS
Suzuki Team Japan's Kazuhiko Niwa enjoyed an excellent day getting used to pace notes in English and a new navigator in Gerhard Weiss. The young Japanese driver finished 17th overnight.
"Having pace notes in English is much better than having them in Japanese," he said. "In English, they tend to be shorter and more descriptive. I found myself having to concentrate a lot on the meanings, but I am sure that in time it will become second nature. Gerhard's experience was very useful to me on these tough and challenging stages."
Weiss was equally complimentary about his new partner. "Kazuhiko is a very talented young driver," he said. "I think he certainly has the potential to be as quick as Juha on asphalt. Of course there are some areas where he could still improve, but this is true of any young driver. He enjoys throwing the car sideways, but to be quicker he needs to use smoother lines. Still, the most important thing is that the raw speed is there."

Tomorrow, the crews have yet another early morning start at 0600 (CET). They then tackle another six stages, comprising 150 tough kilometres of competition. After a 14-hour day, the crews return to Sanremo at 2000.

News from the JWRC

Today has been a battle between the local Italian asphalt experts. Andrea Dallavilla, Giandomenico Basso, and Nicola Caldani have all been vying for supremacy on their home event. Joining the fray has been Francois Duval, keen for a good result after his final day retirement in Germany. The overnight leader is Caldani in a Fiat Punto. Dallavilla's Citroen Saxo is second, ahead of the Punto of Basso in third.


Suzuki versus rivals:

SS1 Passo Teglia 1 (14.44kms)
Fastest JWRC: Francois Duval (Ford Puma) 11m21.2s
Schelle (12th fastest) 11m34.8s
Kangas (21st fastest) 11m59.4s
Niwa (23rd fastest) 12m21.8s

SS2 Passo Drego 1 (26.46kms)
Fastest JWRC: Andrea Dallavilla (Citroen Saxo) 19m05.8s
Schelle (11th fastest): 19m29.4s
Kangas (20th fastest) 20m13.3s
Niwa (23rd fastest) 20m42.6s

SS3 Ghimbegna 1 (10.44kms)
Fastest JWRC: Giovanni Galli (Fiat Punto) 7m12.2s
Schelle (8th fastest) 7m19.4s
Kangas (16th fastest) 7m28.8s
Niwa (23rd fastest) 7m50.1s

SS4 Cosio 1 (19.19kms)
Fastest JWRC: Giandomenico Basso (Fiat Punto)/Daniel Sola (Citroen Saxo) 13m18.3s
Schelle (11th fastest): 13m29.8s
Kangas (18th fastest) 13m51.7s
Niwa (20th fastest): 14m16.0s

SS5 San Bartolomeo 1 (25.38kms)
Fastest JWRC: Giovanni Galli (Fiat Punto) 16m20.4s
Schelle (8th fastest): 16m37.0s
Kangas (19th fastest): 17m08.5s
Niwa (21st fastest): 17m43.0s

SS6 Passo Teglia 2 (14.44kms)
Fastest JWRC: Andrea Dallavilla (Citroen Saxo) 11m18.3s
Schelle (10th fastest): 11m27.8s
Kangas (19th fastest): 11m50.7s
Niwa (21st fastest): 12m08.3s

SS7 Passo Drego 2 (26.46kms)
Fastest JWRC: Daniel Sola (Citroen Saxo) 18m53.2s
Schelle (8th fastest): 19m21.2s
Kangas (16th fastest): 20m23.4s
Niwa (17th fastest): 20m25.3s

SS8 Ghimbegna 2 (10.44kms):
Fastest JWRC: Daniel Sola (Citroen Saxo) 7m11.1s

Schelle (5th fastest): 7m18.9s
Kangas (18th fastest) 8m58.3s
Niwa (17th fastest) 7m59.0s

JWRC results at end of leg one, Sanremo Rallye

1 Nicola Caldani (Fiat Punto)1h45m02.8s
2 Andrea Dallavilla (Citroen Saxo) 1h45m06.5s
3 Giandomenico Basso (Fiat Punto) 1h45m13.3s
4 Daniel Sola (Citroen Saxo) 1h45m32.2s
5 Gianni Galli (Fiat Punto) 1h45m37.5s
6 Francois Duval (Ford Puma) 1h45m55.9s
7 Niki Schelle (Suzuki Ignis) 1h46m38.3s
16 Juha Kangas (Suzuki Ignis) 1h51m54.2s
18 Kazuhiko Niwa (Suzuki Ignis) 1h53m26.6s